The Memac Chain Strap Wrench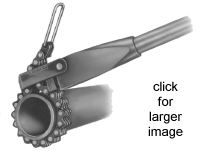 Whenever turning is a problem, you'll find that the Memac Chain Strap Wrench is an invaluable tool. This rugged wrench combines the strength of a chain wrench with the smoothness of a strap wrench. It is ideal for working in tight places and can grip on any shape or material. It is gentle on soft or thin materials too. This is a tool that can turn with equal ease on hardened steel shafts, thin wall tubing, steel pipe, and plastic tubing without gouging or distorting.
The Memac Chain Strap Wrench's smooth grip does not increase as more pressure is applied to the handle.
The Memac Chain Strap Wrench works great and is an instant ratchet in limited working space--you only need enough room to get the wrench between the work piece and the restriction.
The Memac Chain Strap Wrench is manufactured in the U.S.A. and sold worldwide. The wrench can be safely used on hardened steel cam shafts, chrome plated tubing, electrical conduit, tar coated pipe, close nipples on threads, crankshafts, propeller shafts, pumps, electrical power tools, and uneven shapes like hex nuts. The wrench can be used for assembling, adjusting, or dismantling, for field service kits, repair kits, and emergency rescue kits, just to name a few.
Some industries using the Memac Chain Strap Wrench include:
Aircraft Industry
Chemical Plants
Construction
Marine Vessels
Manufacturing Plants
Oil Fields
Electrical Shops
Plumbing & Heating
Public Utilities
Railroad Repair Shops
Refineries
Shipyards
Almost every industry can find a use for this wrench.